Vishay 1μF Multilayer Ceramic Capacitor MLCC 50V dc ±10% , Through Hole K105K20X0UF63H5H
RS 제품 번호:

122-0702

제조사 부품 번호:

K105K20X0UF63H5H

제조업체: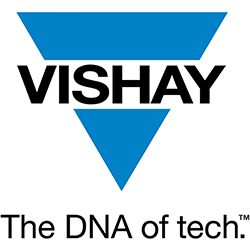 본 이미지는 참조용이오니 재확인이 필요하시면 문의해주세요.
본 제품군 열람하기
---
740 <재고있음> 5-9영업일내 홍콩 발송
수량
한팩당
Per Bag*
10 +
₩4,225.30
₩42,249.90
*다른 단위에 대한 가격 표시
RS 제품 번호:

122-0702

제조사 부품 번호:

K105K20X0UF63H5H

제조업체:
COO (Country of Origin):

CN
제정법과 컴플라이언스
COO (Country of Origin):

CN
---
제품 세부 사항
Vishay K...H Series High Operating Temperature Multilayer Ceramic Capacitors (X0U HOTcaps)
K…H multilayer ceramic capacitors from Vishay are AEC-Q200 qualified and suitable for the harshest automotive operating conditions. These MLCCs feature an unmatched maximum operating temperature of +175°C, and are constructed from a X0U dielectric. These ceramic capacitors have a capacitance change of +22%/-56% between -55°C and +175°C. Providing a new standard of performance and reliability, the HOTcap range from Vishay is produced with a unique wet build process and noble metal electrodes.

Featuring 100% tinned copper clad leads, straight leads or crimped leads are available, with spacing of 2.5 mm or 5 mm. Vishay K…H high operating temperature MLCCs also feature UL 94 V-0 flame retardant epoxy resin.
AEC-Q200 qualified (PPAP available)
High reliability
High performance
Radial mounting style
Designed for application in the most extreme operating conditions
Unmatched maximum operating temperature of +175°C for ceramic dielectrics
Wet build process with high reliability MLCC insert
Applications
Suitable automotive applications include EMI filtering in functional areas such as cable harnesses, turbo chargers, throttle values, brake system controls, exhaust gas and seat position sensors.
Approvals
EIA 198, IEC 60384-9, AEC-Q200


X0U Dielectric
---
사양
| | |
| --- | --- |
| 속성 | 값 |
| Capacitance | 1µF |
| Voltage | 50V dc |
| Mounting Type | Through Hole |
| Dielectric | X0U |
| Tolerance | ±10% |
| Dimensions | 5.1 x 5.1 x 3.2mm |
| Length | 5.1mm |
| Depth | 5.1mm |
| Height | 3.2mm |
| Series | K...H Series |
| Minimum Operating Temperature | -55°C |
| Terminal Type | Radial |
| Lead Spacing | 5 mm |
| Maximum Operating Temperature | +175°C |