본 이미지는 참조용이오니 재확인이 필요하시면 문의해주세요.
모든 Rocker Switches 열람하기
---
일시 품절-다음 입고 날짜는 20/06/2023
(일/월/년)
이며, 그 후 5-10영업일내 홍콩에서 발송. 정확한 입고 수량에 대한 문의는 krenquiry@rs-components.com 로 연락주세요.
| | |
| --- | --- |
| 수량 | 한팩당 |
| 1 - 49 | ₩2,189.25 |
| 50 + | ₩2,128.00 |
RS 제품 번호:

223-884

제조사 부품 번호:

SLE6A

제조업체:
COO (Country of Origin):

CN
제정법과 컴플라이언스
COO (Country of Origin):

CN
---
제품 세부 사항
Fujisoku Miniature Power Rocker Switches - SL & SLE Series
Fujisoku SL and SLE series of single and double pole rocker switches are non illuminated miniature rocker switches with an "on-off" or "on-on" alternate switching action. The black rocker switch body snap fits into 19.2x12.9mm or 19.4x12.9mm panel cut-outs with a panel thickness of between 0.75 and 3mm, the fixing ribs on the switch housing ensures a tight secure fit.
The SL and SLE rocker switches are available in a choice of terminal styles that includes right angle PCB mount, solder tag, 4.8x0.5mm and 4.8x0.8mm Faston/Quick Connect style tab terminals, for suitable mating connectors see stock numbers
488-1229
and
488-1241
respectively. Other options in the SL and SLE series are dust and waterproof IP64 versions and high inrush switches, all of which are available with or without white abrasion-proof legends (further details on the options of terminal styles and actuator legends are shown in the table below).
Maximum resistive switch rating of 6A and 10A, minimum rating 10mA at 5Vac/dc
SLE6, SLE10 and SL10K switches have a minimum contact distance of 3mm
SLE6, SLE10 and SLE210K switches have a dust proof construction while the SLE10K switches are protected from dust and water ingression and have a IP64 rating
SL10K and SLE210K switches have a high inrush current rating up to 100A (inductive)
Electrical life of 10,000 cycles for SLE6, SLE10 & SLE210K switches and 20,000 cycles for SL10K and SLE10K switches
Contact resistance 20mΩ maximum
Dielectric strength 1500Vac for 1 minute
Insulation resistance 100MΩ minimum
Operating temperature range -25 to +85°C
Approvals
SLE6 & SLE10 switches = UL, CSA, VDE, SEMKO
SL10K & SLE10K switches = UL, CSA, VDE
SLE210K switches = UL, VDE, SEMKO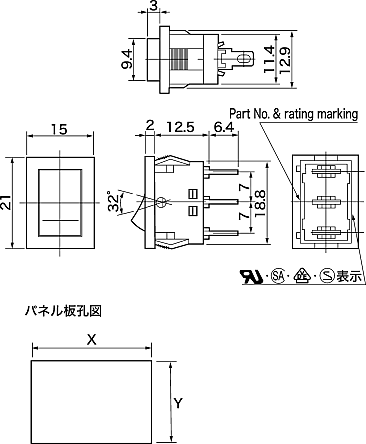 ---
사양
| | |
| --- | --- |
| 속성 | 값 |
| Contact Configuration | SPST |
| Switch Operation | On-Off |
| Panel Cut Out Width | 12.9mm |
| Panel Cut Out Height | 19.4mm |
| Contact Current Rating | 4 A @ 250 V ac, 6 A @ 125 V ac |
| Actuator Colour | Black |
| Mounting Type | Panel |
| Terminal Type | Solder |
| Panel Cut Out Size | 19.4 x 12.9mm |
| Contact Resistance | 20mΩ |
| Operating Temperature Range | -25 → +85°C |
| Minimum Operating Temperature | -25°C |
| Maximum Operating Temperature | +85°C |