Copal Electronics Momentary Push Button Switch, Panel Mount, DPDT, 6.4 (w/o locking ring)mm Cutout
RS 제품 번호:

762-4959

제조사 부품 번호:

8N2021C-Z

제조업체:

본 이미지는 참조용이오니 재확인이 필요하시면 문의해주세요.
모든 Push Button Switches 열람하기
---
13 <재고있음> 5-9영업일내 홍콩 발송
| | |
| --- | --- |
| 수량 | 한팩당 |
| 1 - 24 | ₩9,553.25 |
| 25 - 99 | ₩9,171.75 |
| 100 + | ₩8,788.50 |
RS 제품 번호:

762-4959

제조사 부품 번호:

8N2021C-Z

제조업체:
COO (Country of Origin):

CN
제정법과 컴플라이언스
COO (Country of Origin):

CN
---
제품 세부 사항
Fujisoku Push Button Switches – 8N and 8P Series
Fujisoku 8N and waterproof 8P series of Push Button switches which are available in a choice of SPDT or DPDT contact configurations with momentary or alternate switching functions and PCB or solder terminals.
Both the 8N and the waterproof 8P Push Button switches have over 4mm insulation distance between the terminal and ground, a contact resistance less than 10mΩ and an insulation resistance greater than 1000MΩ. They have an epoxy sealed flux proof construction and the body material is self-extinguishing to UL94V-0 which has excellent arc resistance.
Upon securing the switch to the panel, simply select the colour and size of actuator button to suit your panel design. The actuator buttons easily fit onto the switch shaft from the front of the panel and can be removed and replaced with different colours and size. The buttons are available in a choice of white, red or black with 8mm, 10mm and 15mm diameters.
Choice of colours and sizes of button actuators to suit your application
Maximum switch rating of 6A at 125Vac, 3A at 250Vac
Waterproof (8P series only)
Solder or PCB terminals
Contact resistance 10mΩ maximum
Dielectric strength 1500Vac for 1 minute
Insulation resistance 1000MΩ minimum
Electrical life 25,000 cycles momentary switches, 40,000 cycles alternate switches
Self-extinguishing UL94V-0
Operating temperature range -20 to +85°C
Note
A switch body + button actuator = a complete switch.
Momentary switches have the momentary state displayed in brackets, e.g. on - (on).
8N switches are supplied with 2 hex nuts, 1 lockwasher and 1 locking ring.
8P switches are supplied with 1 hex nut, 1 lockwasher and 1 O-ring.
If using the locking ring with the 8N switches see datasheet for panel cut-out details.
Approvals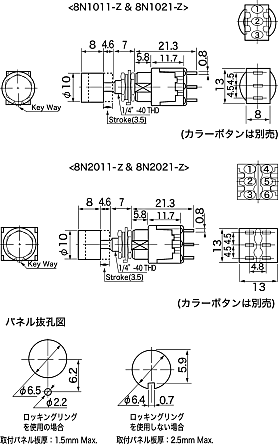 Fujisoku Push Button Switches
---
사양
| | |
| --- | --- |
| 속성 | 값 |
| Switch Operation | Momentary |
| Mounting Type | Panel Mount |
| Contact Configuration | Double Pole Double Throw (DPDT) |
| Contact Material | Brass Silver, Copper Silver |
| Panel Cut Out Diameter | 6.4 (w/o locking ring)mm |
| Contact Current Rating | 3 A @ 250 V ac, 6 A @ 125 V ac |
| Manufacturer Part No. | 8N2021C-Z |
| Terminal Type | Solder Tag |