RS PRO 76dB Flange Mount Continuous Internal Magnetic Buzzer Component, 32 x 17 x 15.55mm, 20V dc Min, 28V dc Max

모든 Piezo Buzzers 열람하기
---
1565 <재고있음> 5-9영업일내 홍콩 발송
| | |
| --- | --- |
| 수량 | 한팩당 |
| 1 - 24 | ₩7,588.80 |
| 25 - 49 | ₩7,429.15 |
| 50 - 99 | ₩7,202.85 |
| 100 - 499 | ₩7,030.80 |
| 500 + | ₩5,786.15 |
RS 제품 번호:

622-1449

제조업체:
COO (Country of Origin):

TW
제정법과 컴플라이언스
COO (Country of Origin):

TW
---
제품 세부 사항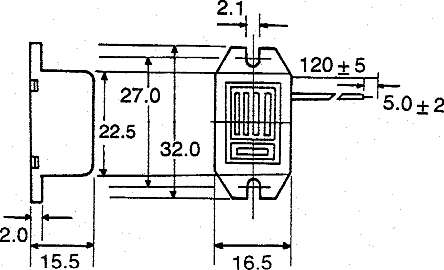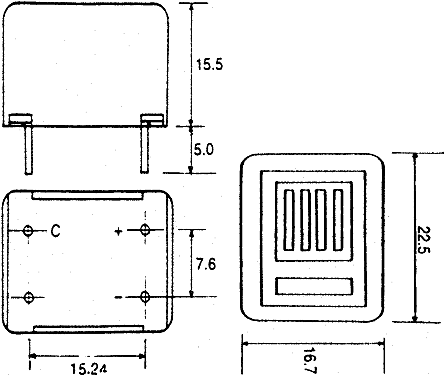 RS PRO 28 V DC, Flange Mount Buzzer, 76 dB Continuous
This piezo buzzer from RS PRO gives you a safe and simple way to generate sounds from your electronic equipment. You can easily wire it to emit a continuous tone of up to 76 dB, with a resonant frequency of 2.8 kHz.

This buzzer has internal circuitry and can be mounted directly on a printed circuit board. It has flying leads for quick connections and its ABS (acrylonitrile butadiene styrene) housing makes it highly resistant to shock and chemicals. Compared to magnetic buzzers, this piezo buzzer generates sounds with a much larger pressure level. It can also operate with a relatively low current of 24 mA.

This buzzer has been extensively tested to meet RS PRO standards. It's safe for use in a temperature range between -20°C and +60°C. It's commonly used for alarms and warning devices, as well as telephone dial tones and toy or game sounds.
Features and Benefits
• Continuous piezo buzzer
• Sound level of 76 dB
• Resonant frequency of 2.8 kHz
• Internal drive
• Flange mounting
• Dimensions of 32 mm x 17 mm x 15.55 mm
• Supply current of 24 mA
• Diameter of 26 mm
• Height of 15.55 mm
• Minimum operating temperature of -20°C
• Maximum operating temperature of +60°C
• Minimum supply voltage of 20 V (DC)
• Maximum supply voltage of 28 V (DC)
RS PRO
RS PRO is our own brand range and brings you a wide range of high-quality, great value products offering you more choice. Trusted by engineers all over the world, every part of every RS PRO product has been rigorously tested against demanding industry standards
they're only given the RS PRO Seal of Approval if we're confident of their exceptional quality, which means you can be confident too.
---
사양
| | |
| --- | --- |
| 속성 | 값 |
| Mounting Type | Flange Mount |
| Minimum Supply Voltage | 20V dc |
| Maximum Supply Voltage | 28V dc |
| Sound Level | 76dB |
| Drive Type | Internal |
| Tone Type | Continuous |
| Diameter | 26mm |
| Height | 15.55mm |
| Dimensions | 32 x 17 x 15.55mm |
| Minimum Operating Temperature | -20°C |
| Maximum Operating Temperature | +60°C |
| Supply Current | 24mA |