ROCA Stainless Steel Raised Profile Hinge, Screw Fixing 37mm x 67.5mm x 2mm
RS 제품 번호:

348-7236

제조사 부품 번호:

44 15 71

제조업체:
모든 Hinges 열람하기
---
622 <재고있음> 5-9영업일내 홍콩 발송
수량
한팩당
한팩당*
2 - 8
₩10,226.90
₩20,453.80
10 - 18
₩9,817.70
₩19,633.85
20 - 78
₩9,408.50
₩18,818.55
80 +
₩9,203.90
₩18,407.80
*다른 단위에 대한 가격 표시
RS 제품 번호:

348-7236

제조사 부품 번호:

44 15 71

제조업체:
COO (Country of Origin):

TW
제정법과 컴플라이언스
COO (Country of Origin):

TW
---
제품 세부 사항
RS Pro Small Stainless Steel Raised Profile Hinges
These high-quality steel hinges are made of Stainless Steel 304 that guarantees an enhanced durability and rust resistance. Hinges are available in a variety of sizes and shapes.
Features and Benefits:
• Robust, with excellent anti-corrosive properties
• Ideal for the food, pharmaceutical and other 'clean' industries
• Vibrated and Chrome treated
• Made of high-quality Stainless Steel 304
• Riveted Pin
• C'sk fixing holes
FAQ:
What does 304 mean in Stainless Steel?
Type 304 is a type of stainless steel, and it's also known as "18-8" stainless steel because of its composition – it includes 18% chromium and 8% nickel. Type 304 stainless steel has good forming and welding properties, as well as strong corrosion resistance and strength.
What are the dimensions of the hinges?
Please, look at the specifications sections below to find an exact information. You can also find all the details in the datasheet.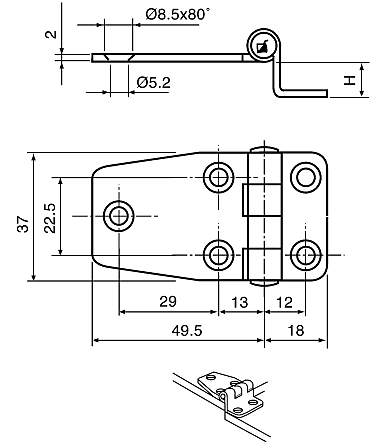 ---
사양
| | |
| --- | --- |
| 속성 | 값 |
| Material | Stainless Steel |
| Hinge Type | Raised Profile |
| Closing Type | Free Swinging |
| Length | 37mm |
| Width | 67.5mm |
| Thickness | 2mm |
| Fixing Method | Screw |