모든 Couplings 열람하기
---
일시 품절-다음 입고 날짜는 08/09/2022
(일/월/년)
이며, 그 후 5-10영업일내 홍콩에서 발송. 정확한 입고 수량에 대한 문의는 krenquiry@rs-components.com 로 연락주세요.
대체품
이 제품은 현재 공급 불가입니다. 아래 제품들은 당사에서 추천드리는 대체품입니다.
RS 제품 번호:

423-1804

제조사 부품 번호:

MJS19-6-A

제조업체:
COO (Country of Origin):

US
제정법과 컴플라이언스
COO (Country of Origin):

US
---
제품 세부 사항
Set Screw Style
Note
Only one hub is supplied. Two hubs and a torque disc will be required for a complete assembly. These parts are sold separately.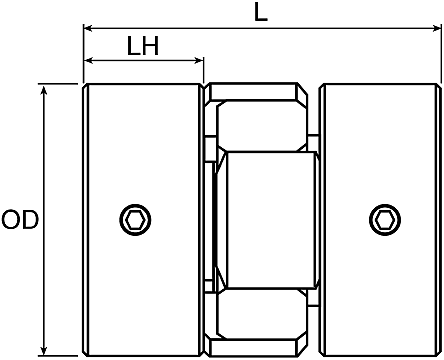 Note
These parts must all be ordered separately


Jaw Couplings


A range of zero backlash curved jaw couplings. Three piece coupling comprising two aluminium hubs and an elastic insert (spider). Polyurethane spider provides damping of impulse loads, minimising shock to the motor and other sensitive equipment. Offered in two hardness levels the spiders can be used to customise the coupling performance.


Low to medium torsional rigidity and strength
An electrically isolating coupling solution
A balanced design suited to high bearing loads and moderate inertia
Accommodates slight angular, axial and parallel misalignments
One complete coupling comprises two aluminium hubs and a spider (order separately)
Use 92 Shore spider to give the best dampening characteristics and 98 Shore spider for the best torsional rigidity
Snap fit spider ensures zero backlash and high torque capabilities
Fail-safe design allowing operation of coupling even if spider element fails
2 hubs required per coupling assembly
---
사양
| | |
| --- | --- |
| 속성 | 값 |
| Bore | 6mm |
| Coupling Types | Jaw Coupling |
| Outside Diameter | 19.1mm |
| Length | 27.2mm |
일시 품절-다음 입고 날짜는 08/09/2022
(일/월/년)
이며, 그 후 5-10영업일내 홍콩에서 발송. 정확한 입고 수량에 대한 문의는 krenquiry@rs-components.com 로 연락주세요.
대체품
이 제품은 현재 공급 불가입니다. 아래 제품들은 당사에서 추천드리는 대체품입니다.