Rose+Krieger Connecting Component, Angle Clamp, strut profile 20-30 mm
RS 제품 번호:

456-6021

제조사 부품 번호:

K10030BCE

제조업체:

본 이미지는 참조용이오니 재확인이 필요하시면 문의해주세요.
모든 Connecting Components 열람하기
---
110 <재고있음> 5-9영업일내 홍콩 발송
단가 Each (In a Pack of 5)
Was ₩19,914.40
수량
한팩당
한팩당*
5 +
₩16,927.55
₩84,636.20
*다른 단위에 대한 가격 표시
RS 제품 번호:

456-6021

제조사 부품 번호:

K10030BCE

제조업체:
COO (Country of Origin):

DE
제정법과 컴플라이언스
COO (Country of Origin):

DE
---
제품 세부 사항
Type W-KU Angle Clamps
The RK LightClamps plastic connection system guarantees flexibility thanks to the design of its reducing bushes (sold separately). This design enables the clamping of the most various tube sections. The change to other diameters or sections requires only the change of the reduction bush. These clamping elements are available as "closed element" (1 piece basic form) and as "half shell" (2 pieces basic form). With an attractive design and intelligent system of reducing bushes, these clamping elements also benefit with a resistance to chemicals.
Features and Benefits
• Elements made from reinforced polyamide
• Closed elements or half cups
• Tube clamping of different diameters due to a special bush system
• Attractive design
• Zinc plated screws, retrofitting in stainless steel
• Compatibility to the BLOCAN® profile system
Application Information
They are appropriate for sensitive applications under laboratory conditions and for industrial applications as, for instance, in the beverage or packing industry. Optionally equipped with High-Speed-Steel screws, RK LightClamps can also be used in the food industry and in wet areas, e. g. the beverage industry.
Angle Clamp W-KU
Note
Reducing bushes not included with this product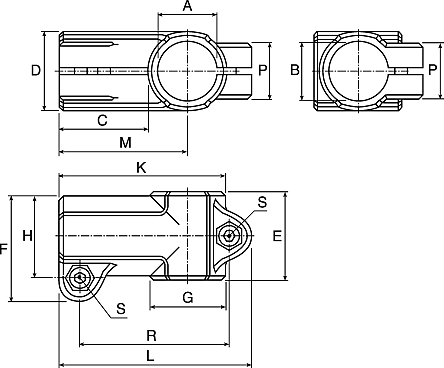 ---
사양
| | |
| --- | --- |
| 속성 | 값 |
| Connector Type | Angle Clamp |
| Structural Element Type | Connector Bracket & Joint |
| Length | 20mm, 25mm, 30mm |
| Fits Strut Profile | 20-30 mm |
| Fits Tube Diameter | 20mm, 25mm, 30mm |
| Fits Square Tube Profile | 20mm |
| Product Family | Rose+Krieger |
| Material | Nylon |
| Product System | KU |
| Series | RK Light Tubular System |