Adaptaflex Straight, Conduit Fitting, 21mm Nominal Size, M20, Nylon 66, Black
RS 제품 번호:

613-987

제조사 부품 번호:

ASF21/M20/A

제조업체:

모든 Conduit Fittings 열람하기
---
830 <재고있음> 5-9영업일내 홍콩 발송
단가 Each (In a Pack of 5)
Was ₩6,888.00
수량
한팩당
한팩당*
5 - 245
₩3,034.50
₩15,172.50
250 +
₩2,927.75
₩14,637.00
*다른 단위에 대한 가격 표시
RS 제품 번호:

613-987

제조사 부품 번호:

ASF21/M20/A

제조업체:
COO (Country of Origin):

GB
제정법과 컴플라이언스
COO (Country of Origin):

GB
---
제품 세부 사항
Adaptaseal® IP67 Straight
These fittings are a three piece compression style system which can be used in external applications requiring assured IP67 weatherproofing, offering flexibility and high mechanical strength.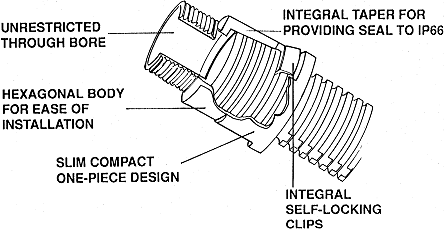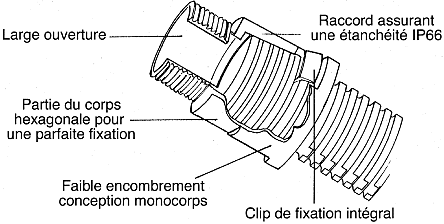 Supplied with


Adaptaflex PA/PI/PK Conduit & Adaptalok®/Adaptaseal®/Adaptalok ATS® Fittings


A range of black flexible conduits and fittings to suit a wide variety of uses which include, use where public safety or where the integrity of electronic equipment are of concern or for robotic, rapid or continuous motion applications demanding high fatigue life and extra flexibility, also suited for low temperature environments.,Conduits are manufactured from modified Polyamide and are flame retardant, halogen free, have a low fire hazard (LFH) and offer resistance against chemicals and oils i.e. MEK, petrol, diesel, mineral oils, etc.,Fitting systems compatible with these Adaptaflex conduits are Adaptalok® for an IP66 rating, Adaptaseal® for an IP67 rating and Adaptalok ATS® for an IP68/69K rating.
---
사양
| | |
| --- | --- |
| 속성 | 값 |
| Nominal Size | 21mm |
| Fitting Type | Straight |
| Thread Size | M20 |
| Material | Nylon 66 |
| Colour | Black |
| IP Rating | IP66, IP67, IP68, IP69K |
| Finish | Black |
| Series | ASF |
| Standards Met | CE |