본 이미지는 참조용이오니 재확인이 필요하시면 문의해주세요.
모든 Bridge Rectifiers 열람하기
---
RS 제품 번호:

227-8801

제조사 부품 번호:

VS-36MB120A

제조업체:
제품 세부 사항
Bridge Rectifiers with Push-on Terminals, VS-36MB Series, Vishay Semiconductor
Universal, 3-way terminals: Push-on, wrap around or solder
High thermal conductivity package, electrically insulated case
Center hole fixing
Excellent power/volume ratio
Approvals
UL E300359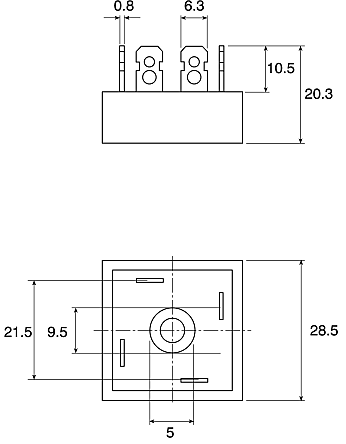 Bridge Rectifiers - Vishay Semiconductor


The Bridge Rectifier converts an Alternating Current (AC) input into a Direct Current (DC) output for full-wave rectification applications. The diode arrangement provides the same polarity of output for either polarity of input. A three-phase full-wave rectifier is an arrangement of six diodes in a bridge circuit configuration. The packages are designed for minimal size, highest reliability and maximum thermal performance.
---
사양
| | |
| --- | --- |
| 속성 | 값 |
| Bridge Type | Single Phase |
| Peak Average Forward Current | 35A |
| Peak Reverse Repetitive Voltage | 1200V |
| Mounting Type | Screw Mount |
| Package Type | D 34 |
| Pin Count | 4 |
| Configuration | Single |
| Peak Non-Repetitive Forward Surge Current | 500A |
| Maximum Operating Temperature | +150 °C |
| Minimum Operating Temperature | -55 °C |
| Peak Forward Voltage | 1.14V |
| Peak Reverse Current | 10µA |
| Length | 28.5mm |
| Dimensions | 28.5 x 28.5 x 9.8mm |
| Height | 9.8mm |
| Width | 28.5mm |