Honeywell CSN Series Current Transformer, 150A Input, 150:1, 25 mA Output, 12.5 x 9mm Bore, 12 → 15 V dc
RS 제품 번호:

181-1429

제조사 부품 번호:

CSNT651

제조업체:

모든 Current Transformers 열람하기
---
RS 제품 번호:

181-1429

제조사 부품 번호:

CSNT651

제조업체:
제품 세부 사항
High current & Multi-range (AC & DC)
Flexible alternative to the current shunt or transformers for the isolated measurement of a.c. or d.c. currents. Both types have plastic Bayblend KU1468 UL94-VO cases.,High current types have current sensors based on the hall effect and null balance method. The output is the balancing current which is a perfect image of the primary current reduced by the number of secondary turns at any time. It can be expressed as a voltage by passing it through a resistor.,Multi-range types are similar devices but with a wider measuring range. Up to 36A is possible using 5 primary turns and up to 43A using 7 primary turns.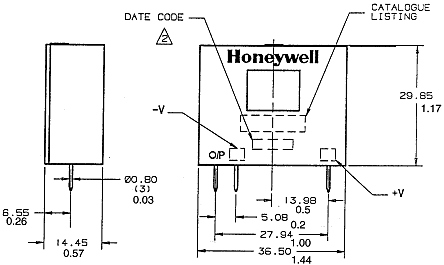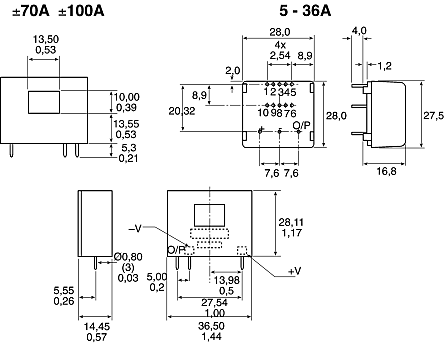 ---
사양
| | |
| --- | --- |
| 속성 | 값 |
| Current Ratio | 150:1 |
| Bore Size | 12.5 x 9mm |
| Sensor Technology | Closed Loop |
| Supply Voltage | 12 → 15 V dc |
| Input Current | 150A |
| Output Current | 25 mA |
| Overall Height | 29.6mm |
| Overall Width | 36.6mm |
| Overall Depth | 14.45mm |
| Minimum Temperature | -40°C |
| Maximum Temperature | +85°C |
| Mounting Type | PCB Mount |
| Series | CSN |