Featured products
Proximity Sensors
Proximity sensors detect an object in close proximity without any physical contact. The sensor device uses sound, light, infrared (IR) or electromagnetic f
Sensor Connectivity
ensor Connectivity or Sensor Boxes are used in a wide range of industrial applications and provide solutions for connecting, monitoring and controlling mul
Industrial Hubs & Switches
ndustrial hubs are the devices used to connect several Ethernet devices together at one time. They then function as a single network together.
HMI Displays
HMI displays in 5 sizes from 7.1in to 10.2in, featuring a colour TFT screen, embedded Ethernet, and powered by a Cortex A7 processor.
Pressure Sensors
Pressure sensors are devices that sense the applied pressure of gases or liquids. The output of the measurement is then converted into an electrical signal
Network Test & Measurement
Make sure your network installation is working correctly and reliably with great value test & measurement equipment by RS PRO.
IoT Solutions
Join RS PRO-BOT on a journey through our range of IoT enabling product and solutions, both in the home office and on the factory floor.
IoT Range Guide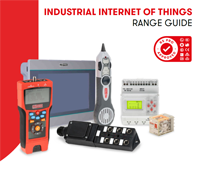 Over 8,400 IoT enabling & smart connectivity products to support you
Embrace the IoT revolution for less with the help of RS PRO
Download and keep our digital guide for future reference
Our Range, Your Choice
No other own brand gives you as many high quality, great value products with same day dispatch; and with over 60,000 to choose from the choice is in your hands.
We are so confident in the quality of the products in our RS PRO range, that we are offering a 3 year warranty.
Quality & price are key to our customers.
Corby Core, a contract manufacturing business making cable assemblies and control panels, tells us why RS PRO is a pivotal part of their purchasing mix. How it helps deliver quality, price and availability which is vital in helping meet their customer's needs.
About RS PRO
QUALITY: We rigorously test every part against demanding industry standards
CHOICE: We continuously expand our range to cover your every need.
VALUE: We price our products competitively without compromising our Quality